If the history (especially the early life) of William H. Bonney is a mystery, so is his family, but even more so. There was his mother Catherine McCarty-Antrim, younger brother Joseph McCarty-Antrim, and his stepfather William Antrim. As for Billy the Kid's biological father, there is absolutely nothing known about him -not even a name. Despite lack of information on these three, here are short biographies on Catherine, Joseph, and William Antrim.

Please take notice of the footnote numbers in parenthesis within the biography, you will find the footnote comments at the end of that paragraph. Please excuse the small lettering.
***********************************************


Little if anything is known about the woman who brought the legendary Billy the Kid into this world. Like her son, Catherine's birth date, place of birth (Ireland, but where in Ireland?) and her maiden name is unknown (1). We do know she was an Irish immigrant that arrived New York, but whether she came over alone or accompanied by a boyfriend or husband, or whether she was already pregnant with the Kid is not known. The truth about Catherine's marriage(s) and father(s) of her sons is very unclear and although promising records have surfaced that could possibly solve the mystery, they always have a loophole in it. So what's to follow is my own speculation and it's up to the reader's discretion on whether or not they want to accept it as a possibility. Catherine's future husband William Antrim recalled that her first husband died in New York, but he didn't make it clear on whether or not that was the only one -could there have been a second? Did he father both or just one of Catherine's sons? Since there are no agreeable marriage records of a "McCarty" or "Bonney" couple in New York, it's possible they may have already been married when they came to America. Another possibility is that Catherine may have been a "fallen girl" and Billy the Kid was her love child and maybe the last name of the man who fathered her child was Bonney (2). This could explain (as Billy the Kid biographer Frederick Nolan suggested) while looking for an alias, the Kid took on the last name of Bonney. If this theory is true, then during Catherine's pregnancy or immediately after, she may have relocated (as unwed mothers often did in those days) to Indiana or she may have met her next husband (McCarty) in New York and they traveled to Indiana together. This man could've been Joseph's father and the "McCarty" husband that we've been hearing so much about. Thoroughly confused? Well, you're not alone. This whole husband/father mystery isn't anywhere near being solved and one can go crazy trying to figure it out.

Footnote 1: In Catherine's obituary, it stated she was forty-five when she died of Tuberculosis on September 16, 1874, which means the year of her birth was around 1829. One passenger arrival list showed a Catherine McCarty, age 17, listed as a servant, that had arrived in New York on April 10, 1846 on the ship "Devonshire" from Liverpool to escape the Famine in Ireland. This sounds very promising due to the fact that this woman is the same age as our Catherine, but because this woman couldn't be traced in other records or documents, it can't be said legitimately that this woman is indeed Billy the Kid's mother. It still could be total coincidence.

Footnote 2: Philip Rash, author of "Trailing Billy the Kid" said, "I was told in Silver City in the 1950s that everybody knew Billy was an illegitimate child. Antrim's family told me he became very upset when anyone mentioned his wife and promptly changed the subject. I am convinced there is some scandal in her past."

In 1867 thirty-seven year old Catherine McCarty (now single again) and her two sons, William Henry and Joseph, turned up in Indianapolis, Indiana. She resided at 199 North East Street and it was there she met and began a long term relationship with a man named William Antrim, a twenty-three year old labor and teamster who lived a few blocks away.

In 1870 the two accompanied each other to Wichita, Kansas and settled in different homes. Antrim built a small cabin six miles outside of town and worked as a small farmer while Catherine lived in town. Catherine lived in the building where she ran her laundry service on North Main Street and dabbled in real estate. Her sons most likely didn't attend school because the only thing close to a school house was an old soddy that collapsed within the year, so when she had time she may have done home schooling with her boys. Catherine was not your average humdrum woman of that era; she was a strong-willed, independent businesswoman and got involved in town politics. She was the only woman to sign a petition for the incorporation of the town and attended the board of trustees meeting in McAdam's Hall. Catherine would eventually purchase a quarter section lot adjacent to Antrim's property for $200 dollars that she paid in full, which shows she was financially holding her own. She later moved herself and her sons in Antrim's Cabin (3).

Foot note 3: Because there were two "Billys" in the household, it may be around this time that Catherine started calling her oldest son, by his middle name "Henry." Childhood friends in Silver City, claimed Billy the Kid' s real name was William, but to keep him from getting mixed up with his stepfather, his mother was calling him by his middle name. His childhood friends would also added that the Kid never liked being referred to by his middle name and was known by his pals as both Billy and Henry.

Living on the open prairie was not only dull, but also dangerous. There were Texas longhorn cattle stampeding through their property as they were being driven into town and not to mention other critters such as rattlesnakes, wolves, and coyotes. There were also threats of natural disasters like floods, twisters, and worst of all brushfires. The town also proved to be hazardous; rough men, gunfighters, and thieves were now frequenting the town and causing trouble. Catherine may have gotten second thoughts on whether or not she wanted to bring her sons up in this hostile environment, so when she was diagnosed with Tuberculosis, Catherine eagerly took the advice of her doctor to relocate. It's not known whether Catherine contracted the illness in Wichita or if she was a long time carrier of the disease that had now erupted in her body, whatever the case it was serious enough for an immediate move. In those days, the only remedy for consumption sufferers was to live in a dry and warm climate. So Catherine sold off her laundry business and her real estate properties, as well as Antrim, and the family moved out by the end of summer in 1871 (4).

Footnote 4: We came to a fork in the road concerning the year Catherine and Antrim left Wichita. Catherine sold off her property by the end of the summer in 1871 and there is no evidence of her staying anytime after. But William Antrim, years later, said it was in October of 1872. But since he had made inaccurate claims before (due to old age and memory lapse) and the fact that there is no evidence of Catherine's presence in Wichita after August of 1871 to back him up, the conclusion is that the family left in 1871.

It's here that history loses trace of the family. Catherine's son Joseph would recollect years later, that they went to Denver, Colorado. There is no reason for Joseph to lie about it and he would later relocate there himself. Frank Coe would also recollect the Kid saying he lived a short time in Denver before moving to New Mexico. Wherever they were living, history picks up the family's trail in Santa Fe, New Mexico at the First Presbyterian Church and there on March 1, 1873 Catherine McCarty, with her sons at her side, married William Antrim.

Almost immediately after the wedding the newlyweds left Santa Fe to seek a new home. They were looking for a climate that would help Catherine's failing health, also be a decent place to raise hers sons and where they could attend school, and provided employment (and prospecting) for her husband. So their destination was Silver City.

It was the summer of 1873, when the family arrived in the busy little mining town and Antrim was able to purchase a small cabin in town on the corner of Main Street and Broadway. Just like she had in Wichita, Catherine wasted no time in settling down and getting to work. She once again offered her laundry-cleaning service, baked and sold cakes, pies, and bread, and took in boarders. As for her husband, he did odd jobs and mining. One of those who boarded at the Antrim cabin was Ash Upson (co-writer of Pat Garrett's The Authentic Life of Billy the Kid) who would provide us with one of the few describes of Catherine Antrim:

"To those who knew Billy the Kids' mother, his courteous, kindly, and benevolent spirit was no mystery. She was evidently of Irish descent. Her husband called her Kathleen. She was about medium height, straight and graceful in form, with regular features, light blue eyes, and luxuriant golden hair. She was not a beauty, but what the world calls a fine-looking woman. She kept boarders in Silver City, and her charity and goodness of heart was proverbial. Many a hungry tenderfoot has had cause to bless the fortune which led him to her door. In all her deportment she exhibited the unmistakable characteristics of a lady—a lady by instinct and education." (The Authentic life of Billy the Kid).

Uspon wasn't the only one who was impressed by Catherine, neighbors also remembered Catherine with fondness and recall her vivacious and out-going personality and her love of dancing which was passed on to her eldest son. She often took the Kid with her to dancehalls and folks remembered her as one of the best dancers in town.

After a year of living in Silver City it seemed everything was going well for the family, they had a house to call home, while most families were living in tents or camps outside of town, and Catherine's sons were attending school and had other children to play with. After school her sons and their friends would head straight for the Antrim cabin and engage in boyish games of foot-racing and playing pirates till suppertime. There was a small but steady income of Catherine and Antrim's labors, so they were getting by financially, but unfortunately, as the months went by Catherine's illness was becoming worse.

Due to Bill Antrim not properly supporting the family with a real job, but instead be away prospecting most of the time and turning up empty-handed or gambling it away, Catherine who was suffering from her illness, had to pick up the slack by doing laundry, feeding, and taking care of boarders in the already crowded cabin, and baking to earn extra money. The stress of physically labor and emotional strain caused Catherine's health to worsen. Those suffering from Tuberculosis are not only plagued with hacking coughs and chest pains but also severe fatigue, so rest and a stress-free lifestyle are essential. But Catherine was not getting that, instead she was pushing herself to support her family and into an early gave.

A friend suggested to Catherine that she should go to Hudson's Hot Springs, where the sulphur baths were thought to cure patients of all kinds of illnesses. The sulphur baths did not improving Catherine's heath and she was soon bedridden. Another neighbor, Clara Truesdell who was a graduate of nursing school and mother of Chauncey (one of the Kid's friends) tended to Catherine and also took care of her sons. Chauncey remembered how the Kid would always sit at his mother's side and tried to comfort her during her painful cough attacks. At this time, as his wife was dying, William Antrim was frequently absent and did not offer moral support to his family. Catherine understandably felt abandoned and that her sons would be neglected after she was gone. One day Catherine told Clara how concern she was of what would happen to her sons, so Clara promised her that she would look after them.

After almost four months in bed on September 16, 1874 forty-five year old, Catherine Antrim passed away. Her husband, who had disappeared in the hills for prospecting and couldn't be found, nor was he there for his wife's funeral or to give comfort to his grieving stepsons. The day after Catherine's death, Clara Truesdell prepared her body for burial as David Abraham made the coffin and his son dug the grave. There were a number of neighbors that attended the service held at the Antrim cabin and followed the wagon that carried the coffin to the cemetery. Catherine was laid to rest and a simple wooden cross was erected to mark her grave. Antrim finally did return, sold his cabin and placed his sons with guardians and left Silver City for Arizona (5). Sadly, Catherine's concerns for her sons would come true – but worse than she could've ever imagined.

Footnote 5: After Catherine's death her sons were bounced around from one family to another, until their stepfather separated them and placed them, in what he thought, permanent homes. The Kid was placed with the Truesdell family, who had just bought a hotel/restaurant where he worked for his keep and Joseph was placed with John Dryer, proprietor of the Orleans Club as an errand boy. If their mother had lived both their lives would have turned out very differently and Billy the Kid, no doubt, would have grown up to be a respectable and successful man.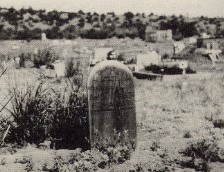 Catherine Antrim's grave maker
Photo from R.N. Mullin Collection
After her grave was relocated when the cemetery was
moved outside of town limits in 1882, her cross was replaced by this wooden marker.
The marker was then replaced in 1947 by a headstone as seen today.
The above wooden marker is currently on display at the Courthouse in Lincoln
Joseph McCarty-Antrim



(age 65)
Photo from R.N. Mullin Collection

As mentioned in Catherine's biography, it's suspected that Joseph and Billy the Kid were half brothers. Several childhood friends in Silver City said that Joe (or Josie as he was called) was larger and huskier than his older brother and evidently did not share the Kid's outgoing and fun loving personality (many years later a Denver reporter would find Joseph to be a colorless character). Although Joseph's death certificate in 1930 gave his age as seventy-six which meant he would have been born in 1854, a document by Joseph Antrim himself would prove otherwise. A voting registration form that Joseph filled out on October 13, 1916, gave his age as fifty-three making the year of birth around 1863. This is backed up by convincing evidence: first, in a 1885 census in Arapahoe County, Colorado, Joseph gave his age as twenty-one, again this would imply he was born in 1863. Then at his mother's wedding his name is mentioned in the Book of Marriages as "Josie," an acceptable nickname for a ten year old youngster, but not a nineteen year old. Lastly, the Silver City newspaper reported that Joseph Antrim "was among the children who spoke at the Christmas Tree and New Year's Eve Festival held in the City Hall on Thursday evening, December 30, 1875 (1)." I'll also throw in the fact that after his mother died, wouldn't the so-called twenty-one year old Joseph be quite old enough to fend for himself, instead of being placed in foster care by his stepfather?

Footnote 1: "The public school where both Billy the Kid and Joseph attended was opened to youngsters "under" sixteen." From the biography "Antrim is My Stepfather's Name: The Boyhood of Billy the Kid" by Jerry Weddle (footnote #17)

After his mother's death Joseph along with his older brother, lived with the Hudson family and/or the Knight family while their stepfather, William Antrim, came and went. Then Antrim separated the boys and placed the Kid with the Truesdell family and Joseph with Joe Dyer a proprietor of the New Orleans club. He worked for his keep at the saloon cleaning, serving liquor, and running errands. Unfortunately, growing up in such an environment without any parental supervision or guidance, eleven-year-old Joseph gambled, drank, and was even spotted by a childhood friend smoking opium at a Chinese opium den.

Though they were living in different homes, Joseph and his brother Billy would see each other around town and in school. Joseph was probably sorry to hear of his brother's arrest, but was cheering for him when he learned he had escaped. It would be almost two years before the brothers would see each other again, it would also be the last time.

After the Kid fled Arizona for killing Windy Cahill, he returned to the Silver City area to visit his surrogate families, the Knights and Truesdells. There was an outbreak of smallpox at the Truesdell family and Joseph (who may have been staying with them at that time) and Chauncey Truesdell were temporarily living at Charley Nicolia's ranch on the Mimbres River. Chauncey and Joseph were milking a cow in the barn, when they spotted three strangers, two being Indians, riding towards them. Joseph grabbed a rifle and aimed it at the strangers, when a voice called out "Hold on Joe, don't you know your own brother?" Chauncey and Joseph recognized the Kid, although still young in appearance, they noticed he had matured and there was now a toughness about him due to his harsh life in the violent and lawless desert. He had also gained survival skills, including efficiency with firearms and horsemanship. The Kid stayed and visited with Joseph that night and left for Lincoln County and would never be seen again by his old friends in Silver City. Joseph would most likely read about his famous brother in the times to come (2).

Footnote 2: There seems to be a discrepancy on whether this "visit" happened after the Kid broke out of jail in Silver City or after killing Cahill.

What became of Joseph in Silver City is anyone's guess. Did he go from one family to another? Did he tramp around? Did he go mining with his stepfather? When Antrim would return to Silver City periodically, the two did keep in touch. Joseph eventually headed to Trinidad, Colorado where he gambled himself a living and when he learned of his brother's death, he vowed to shoot Pat Garrett on sight. So in August of 1882, the two would finally met at Armijo House in Trinidad. Joseph and Garrett sat alone in the establishment and talked for almost two hours, they rose from their chairs, shook hands and departed. Later someone asked Joseph what happened, Joseph remarked that he now had a better understanding of what happened.

In 1883 Joseph was back in Silver City where he prevented a lynching of Doc Kane, then several months later in Las Vegas (NM), Joseph broke up a dispute when he calmed tempers that prevented a gunfight. Joseph then traveled to Arizona and wound up in Tombstone, and after receiving a fine for getting into a fight, he headed back to Colorado and settled in Denver.

It was in Denver that Joseph lived out the remainder of his life as a cantankerous and friendless gambler. In 1928 journalist Ed Hoover of the Denver Post did an article on the old timer. When the article came out, someone pointed out to Hoover that Joe Antrim was Billy the Kid's brother, Hoover replied, "So what." I can't say this any better than Billy the Kid biographer Bob Boze Bell: "Billy aficionados around the world would sincerely like to get their hands on Mr. Hoover's neck and wring it good"…"With the death of Joseph McCarty Antrim, the door closed probably forever, on the answers to so many burning questions. (3)"

Footnote 3: Excerpt from "The Illustrated Life and Times of Billy the Kid" by Bob Boze Bell.

Joseph Antrim never married and died penniless on November 25, 1930 at the age of sixty-six. No one claimed his body, so his corpse was given to the Colorado Medical School.



William Henry Harrison Antrim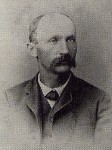 Photo from Philip Rasch Collection

Antrim was born in Huntsville, Indiana on December 1, 1842. His parents were Levi and Ida (Lawson) Antrim and he had seven brothers and sisters: Orleana Jane, Thomas, Albert, Levi, Mary, Francis Marion (who drowned at the age of eleven), and James Madison. In June of 1863, twenty-one year old Antrim moved to Indianapolis and enlisted as a ninety day volunteer in Company I, 54th Regiment and would be honorably discharged the following September. He continued to live in Indianapolis and resided on 58 Cherry Street and later 70 Plum Street while working in a variety of jobs as a laborer, a teamster, and express company clerk. While living in Indianapolis, he met a new comer who lived a few blocks away, Catherine McCarty, a widow and single mother of two young boys. The two developed a relationship close enough that they would relocate together in 1869 to Wichita, Kansas.

Now in Wichita, Antrim purchased a quarter section lot six miles from town. He built a small 14x14 cabin, corrals, rail fencing, and plowed the fields. Meanwhile, his girlfriend was living in town at the building where she had opened a laundry service. Antrim's relationship with Catherine was steady enough for her to buy land adjacent to his property and she and her boys would then move in with him, and it may have been at this time that her sons started calling "Uncle Billy."

By June of 1871 Catherine was diagnosed with Tuberculosis and told to seek a better climate. Both Antrim and Catherine began selling off their real estate and made plans to move. In August they pulled up stakes and left Kansas. They may have gone to Denver, Colorado for a while but would turn up in Santa Fe, New Mexico. On March 1, 1973 Antrim and Catherine were married at the First Presbyterian Church. A couple months later they moved to Silver City, located in the southwest portion of New Mexico.

Silver City was a booming mining town that was growing every day and Antrim was lucky to buy a cabin in town on Main Street and Broadway, while other migrators were living in tents. The small cabin would tie them over until Antrim could buy a town plot and build a better house, but until then his wife Catherine was able to make a decent home out of the crowded thirty square-foot cabin. To earn a living, Antrim got a job at a butcher shop and also hired himself out as a carpenter, but he spent most of his time mining at Chloride Flat, Georgetown, Pinos Altos, and the Carlisle mine close to the Arizona border.

Some neighbors remembered Antrim as a hard workingman, but stingy with his money, but the records show he did little to support his family. He was either away for long periods of time mining or in the saloons gambling away what little money he had. As for his wife, her health was failing and it seemed the sicker Catherine got, the longer Antrim was absent. Catherine's health was deteriorating rapidly and she was bedridden for almost four months until her death. The fact that Antrim was not there for his dying wife and to take care of his young stepsons, does not speak well for him at all. In my opinion he was selfish and abandoned his family during a crucial time (1).

Footnote 1: The only probable excuse I can think of on why Catherine married Antrim in the first place, was after she learned of her terminal illness she may have married him so her sons would have someone to look after them. Unfortunately, Catherine learned that would not be the case.

After his wife's death, Antrim finally returned from a long absence. He sold or leased out his cabin, then he and his stepsons moved in with the Knight family who ran a butcher shop. He worked there for a while, but the hills were calling him, so he went off to prospect. After coming and going at will, Antrim was ready for a permanent move but he wanted to unload his burden first, so he placed his stepsons in the homes of family friends and left town.

Antrim moved to a mining district in Clifton, Arizona and a year later he got a surprise visit from his eldest stepson. When he learned that the Kid got into trouble for petty theft back in Silver City, he told him, "If that's the kind of boy you are, get out!" The youngster then disappeared to fend for himself. If Antrim had taken his stepson in, Billy the Kid's life may have never turned out the way it did (2).

Footnote 2: There's another unlikely version: Antrim was at Chloride Flats outside of Silver City, when the Kid appeared and as one fellow miner at the Flats recalled, Antrim gave his stepson "all the money he had and told him to skin out.". This story doesn't fall together because first of all, Antrim was not in Chloride Flats but in Arizona at the time. Secondly, the tightwad Antrim would not have given the Kid "all the money he had." Antrim didn't give a hoot about his stepsons and if he cared enough to give the Kid all his money, why didn't he just take him in or find him another home or straighten things out with authorities back in Silver City, instead of telling a fourteen year old boy to skin out in a hostile and dangerous desert. So I don't buy the "giving money" version, but lean towards the "get lost" version.

For the rest of his life Antrim didn't amount to anything more than a wandering prospector who never "struck it rich." He drifted back and forth from Arizona and New Mexico and there's even one story of him traveling to Lincoln in April of 1881 to see his famous stepson before his hanging. But his horse became sick and by the time he got a replacement and arrived in Lincoln, the Kid was long gone. As Billy the Kid expert Fred Nolan said "One wonders what they might have had to say to one another. (3)"

Footnote 3: From the biography, "The West of Billy the Kid" by Frederick Nolan.

After making a trip to visit relatives in California, Antrim decided to settle there. He moved in with his niece in Adelaida until his death on December 10, 1922 at the age of eighty. Ironically, he never spoke or wrote about his stepson who had become a legend. Whenever relatives tried to ask him about Billy the Kid or even Catherine, he became uncomfortable and would change the subject. Just like with Joseph Antrim, the doors were shut forever on learning about the early life of Billy the Kid.
BIBLIOGRAPHY
Bell Boze, Bell The Illustrated Life and Times of Billy the Kid Second Edition, Tri Star Boze Productions, Inc, 1996
Nolan, Frederick The Lincoln County War: A Documentary History University of
Oklahoma Press, Norman 1992
Nolan, Frederick The West of Billy the Kid University of Oklahoma Press,
Norman 1998
Weddle, Jerry Antrim is My Stepfather's Name: The Boyhood of Billy the Kid
Historical Monograph No. 9 The Arizona Historical Society, 1993